DAY OF BIRTH "DRILLS-N-THRILLS"
June 4, 2014 @ 7:00 pm

-

10:00 pm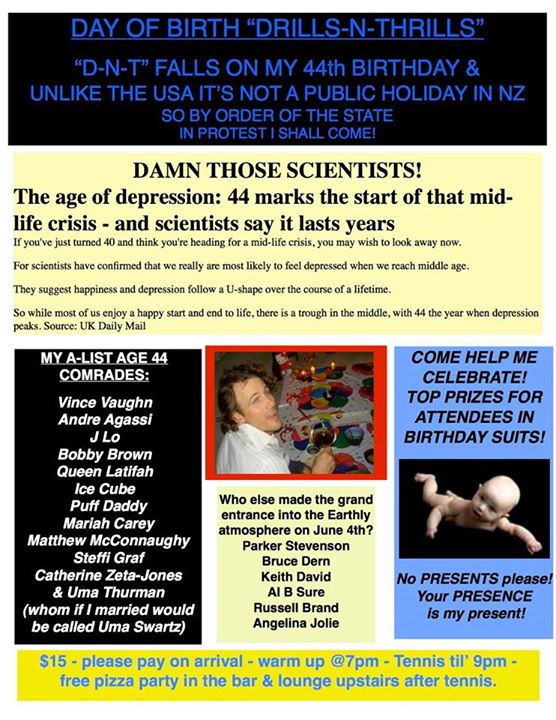 (by Chuck Swartz)
$15 – please pay on arrival – warm up @7pm – Tennis til' 9pm – free pizza party in the bar & lounge upstairs after tennis.
"D-N-T" FALLS ON MY 44th BIRTHDAY & UNLIKE THE USA IT'S NOT A PUBLIC HOLIDAY IN NZ SO BY ORDER OF THE STATE IN PROTEST I SHALL COME!
DAMN THOSE SCIENTISTS!
The age of depression: 44 marks the start of that mid-
life crisis – and scientists say it lasts years
If you've just turned 40 and think you're heading for a mid-life crisis, you may wish to look away now. For scientists have confirmed that we really are most likely to feel depressed when we reach middle age. They suggest happiness and depression follow a U-shape over the course of a lifetime.
So while most of us enjoy a happy start and end to life, there is a trough in the middle, with 44 the year when depression peaks. Source: UK Daily Mail
MY A-LIST AGE 44 COMRADES:
Vince Vaughn Andre Agassi J Lo Bobby Brown Queen Latifah Ice Cube Puff Daddy Mariah Carey Matthew McConnaughy Steffi Graf Catherine Zeta-Jones & Uma Thurman (whom if I married would be called Uma Swartz)
Who else made the grand entrance into the Earthly atmosphere on June 4th? Parker Stevenson Bruce Dern Keith David Al B Sure Russell Brand Angelina Jolie
COME HELP ME CELEBRATE! TOP PRIZES FOR ATTENDEES IN BIRTHDAY SUITS! No PRESENTS please! Your PRESENCE is my present!